Macao is a world unto itself. In this unique city located between East and West, millennia of Chinese tradition meet old-world Portuguese charm. UNESCO World Heritage sites sit beside world-class hotels and resorts, and the region's rich culture is celebrated with the same enthusiastic spirit as its many tourist and entertainment facilities. Every year, visitors from around the world pour into the city to experience all it has to offer, from luxury shopping and exquisite fine dining to prestigious events.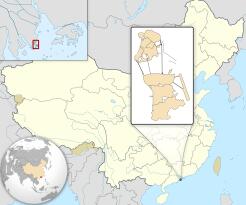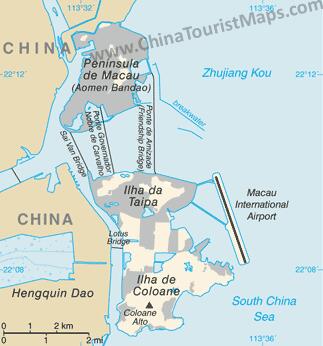 Geography and Population
Macao – composed of Macao Peninsula, Taipa and Coloane – is located in southern China, in Guangdong Province on the west side of the Pearl River Delta. Immediately to the north lies the city of Zhuhai, called by some the 'Chinese Riviera', while about 37 miles (60 km) east is Hong Kong, which like Macao has incorporated its Chinese and European legacies into a distinctive character all its own.
Macao is quite small covering an area of just 27.5 square kilometers. The total population is 469,800 of which 95% are Chinese, the remainder being Portuguese and other westerners.
Weather
As a subtropical city, Macao has a moderate climate, with temperatures ranging on average between 20 ºC (68 ºF) and 26 ºC (79 ºF) and an average annual rainfall of about 2,058 mm. The city welcomes visitors year-round, with prime visiting season is in the fall, from October to December, when the days are warm and the humidity is low.
Travelling to Macao
Travel to Macao is easily arranged, with options to suit most itineraries. Those who prefer to travel by air can take a direct or connecting flight to Macao International Airport, while those looking to indulge may want to check out the helicopter service that runs from Hong Kong and Shenzhen. Ferries are also an affordable option, run regularly between Macao, Hong Kong and Shenzhen, and offer stunning views of the coast and the city skylines. Visitors traveling from or via the Mainland can cross into Macao by land at the Lotus Bridge in Cotai or at the Border Gate on Macao Peninsula.
Language
Though Cantonese is the most widely spoken language in town, English is also common, especially in tourism and commerce. The official languages of Macao, used in government departments, official communications and documentation, are Chinese and Portuguese.
Currency
Macao's official currency is the pataca (MOP), which is divided into 100 avos (cents) and linked to the Hong Kong dollar (HKD) by government decree at an exchange rate of MOP103.20 to HKD100.00, with an acceptable variation of up to 10%. Coins are issued in 10, 20 and 50 avos and 1, 2, 5 pataca denominations, and bills in 10, 20, 50, 100, 500 and 1000 Pataca denominations.
Visitors who need to exchange foreign currencies or traveler's checks can do so at banks, hotels, or authorized exchange dealers, which can be found throughout the city. At this time, one US dollar (USD) is worth roughly MOP8.


Eight Reasons to Visit Macao
1. 6 Guinness World Records
Although with a population of just over 550,000, Macao holds more than 6 Guinness World Records including the highest bungee jump from a building- The Macao Tower, the largest dancing lion- manufactured by MGM GRAND Macao, the largest hanging lantern- manufactured by Galaxy Macao, etc. And most importantly, Macao has the biggest casino in world- The Venetian Macao.
2. 25 UNESCO World Heritage Sites
As the first European settlement in the Far East and Port City dating back to the 16th Century that could trade between China and the West, Macao has also 25 UNESCO World Heritage Sites.
3. $ 0 External Debt
Macao ranks second on the list of country/region for life expectancy at birth (average of 84.38 years) with the most densely populated territory on earth. You have a good reason to visit here for experiencing its long-lived lifestyle. Macao is also ranked at the bottom of World Debt with $0 external debt!
4. Unique Culture
This mixture of East meets West of over 450 years means an unique cultural experience of a blend between Chinese and European cultures, features Macao a destination that is so unique through its food, events, and festivals.
5. Macanese Cuisine
Explore the famous Macanese cuisine created over generations! Several must try including Portuguese Tart, Steam Ginger Milk, Pork Chop Bun, Portuguese Chicken, Portuguese Fried Vegetables and many more. Macanese cuisine is a fruitful result of the fantastic blend of Southern Chinese and Portuguese ingredients and recipes with an extra spices and cooking techniques added by the locals.
6. Largest Integrated Resorts
Macao is home to some of the largest integrated resorts in the world! The majority of integrated resorts are built only recently. Each integrated resort has their unique features such as huge shopping malls, fantastic shows, restaurants, casinos and events. -You can stay in an integrated resort during the conference at great value for money!
7. Visitor Friendly
Visitor Friendly - Macao is a visitor-friendly city. One can walk around Macao with no fear to personnel safety or security. Also, the city offers visa-free access to citizens from more than 70 countries in the world.
8. Come to Macao!
You have friends waiting for you in Macao! Welcome to NEFES Conference and the truly memorable and exciting city! See you all soon!